Welcome to Resilience Reminders™
A community-wide program that fosters a sense of belonging, genuine connection, and personal empowerment and goes beyond the classroom and out to the family dinner table.
Want to start having meaningful, resilience-building conversations with your kids?
Want your kids to feel empowered and supported in the midst of the epidemic of loneliness impacting so many kids today? 
Join us as we engage in a powerful new program that not only teaches resilience but also fosters authentic connection.
Bring Resilience Reminders™ to your school, club or team.
We won't send spam. Unsubscribe at any time.
Everyone Needs Resilience
Resilience is the ability to use the inevitable challenges, setbacks, losses, failures and disappointments of life to become a stronger, better, happier version of yourself.
Resilience can be broken down into skills anyone can learn.
Watch this 3-minute video to learn more.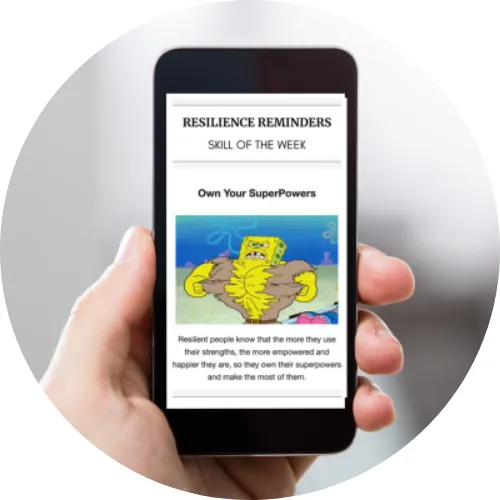 How it Works
Everything You Need in the Palm of Your Hand!
No training or preparation necessary!
Your school will designate certain people to be "mentors" to your kid(s) and certain times for resilience-building conversations during which they will follow these instructions:
READ the "Skill of the Week" aloud to the kids. (Seriously, just read it word for word.)
ASK one of the questions provided.
LISTEN to the kids' answers. (The power is in you listening to their answers.)
SHARE (Only after the kids have shared do you finally share. And be vulnerable. Vulnerability breeds genuine connection, so be brave.)

 
Parents are encouraged to continue the conversations at home.
Why it Works
Open, authentic, meaningful conversations build connection and also build a sense of belonging—to the family and to the community.
See Example
Help Us Create A Resilience Ripple!
Together we can break the cycle of disconnection and disempowerment by starting a new kind of conversation.
The more adults in your child's life having resilience-building conversations with them, the better.
Let's take the conversation out of the classroom, onto the field and home to the dinner table!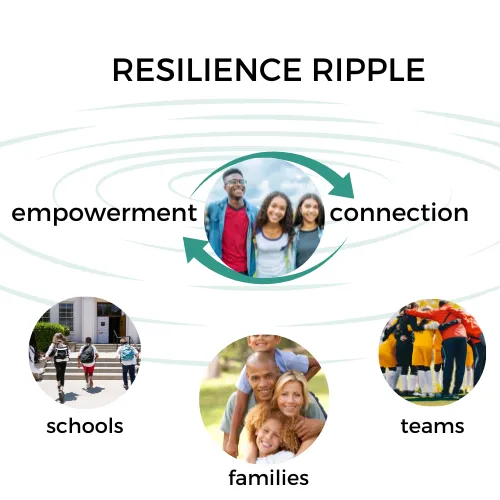 MENTORS
WATCH THIS BEFORE YOU BEGIN!
This 3-minute video will tell you everything you need to know about using the "Skill of the Week" emails to start having resilience-building conversations.
Thank you for participating!
An Evidence-Based Curriculum
Hi, I'm Kristin MacDermott. I'm a licensed marriage and family therapist, resilience expert, and creator of the MacDermott Method.
Resilience Reminders is based on a resilience-training curriculum that has been validated in 4 studies with researchers from The Duke Clinical Research Institute, published in peer-reviewed journals, and proven to promote clinically significant improvement in key mental health and resilience measures, including distress, anxiety, depression, PTSD, and self-efficacy.
Versions of the curriculum have been used by a diverse array of organizations, including Navy SEALs, the LAPD, 20 hospitals across the country, including Duke Health and the National Institutes of Health, the National Guard, and the Veterans Administration, and they have been funded by The National Cancer Institute, Navy SEAL Family Foundation, Pfizer, Genentech, Amgen, Livestrong, Duke Cancer Institute, Colorado Health Foundation, Women's Cancer Research Fund, the Aspen Center for Integral Health, Susan G. Komen Foundation, the National Comprehensive Cancer Network, and the Annenberg Foundation.
Our mission is to bring resilience-training to every child in America through our mentoring and parenting programs. In doing so, I hope to not only empower the children but also to strengthen their families.
See The Resilience Model